---
171 Fairway Ridge
Beeville, TX 78102
Office(361)362-Cows
Fax(361)362-1035
Mobile (361)362-5863
Follow Leo on Instagram
---
HISTORY & ORIGIN OF REGISTERED BRAHMAN HERD
Our Brahman herd was born in the drought of 2002. The late Bill Marshall of Charlotte, Texas owned 200 registered Brahman cattle that I drove by twice a week on my way to the Kenney Ranch, owned by my family in Atascosa County. Bill and I had become fast friends because of our mutual interest in good cattle. I contracted the F-1 heifers and steers from him for the last few years before his passing and we spoke at length about his philosophy on cattle.
What really struck me about his cattle were five things:
1) You never saw a cow without a calf or obviously pregnant.
2) Bill had a very minimal supplement program and yet his cows were always in good condition, even in a drought, which struck in those parts every two or three years.
3) They were gentle. Bill never "handled" his cattle other than calling them with cubes and sorting them afoot in the pen. It was obvious to me they were "inherently" gentle, that is, "gentle by nature".
4) I never observed a bad bag, even among the older cows. Not even an occasional long teat.
5) The unmistakable quality, even in the offspring. No "dinks" or "offs".
The drought of '02 was hard on everyone and Bill offered me what I viewed as a "once-in-a-lifetime" opportunity. I was given the chance to buy 50 head from the herd. Predictably, the price was extremely high at the time. We struck a deal in about five minutes with a handshake. That was better than a contract with Bill, and I presume and hope he thought the same about me. I didn't buy the best cows. That was impossible; they were ALL good! I bought 50 of the younger cows.
We raised two crops of F-1 Braford calves sired by some good Krieg Ranch Hereford bulls and the quality was unbelievable! They made the cover of the Gulf Coast Cattleman! The cows bred 100%.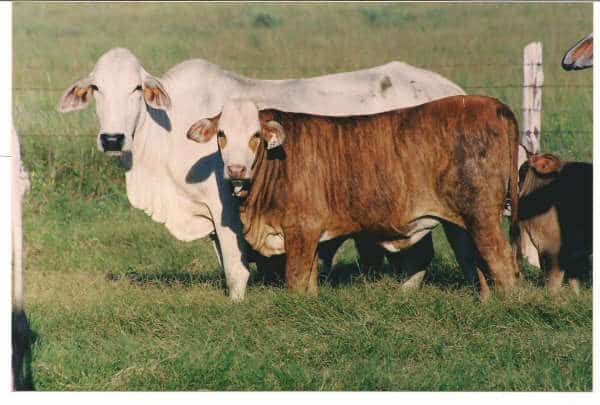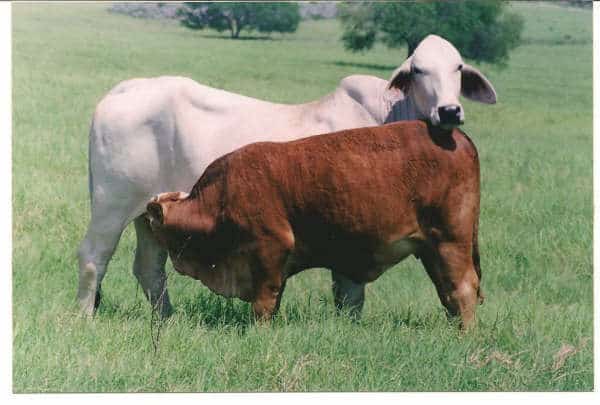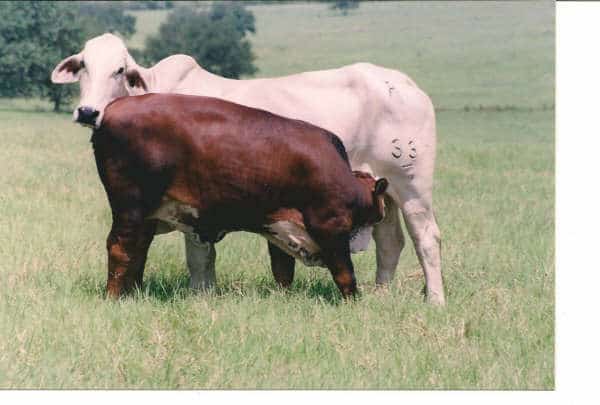 With that kind of fertility, and the explosion of demand for Brahman cattle, I made the decision to breed them to Brahman bulls. The challenge was finding a Brahman Bull good enough for them that I could afford.
I had been buying Brahman bulls from R. W. Dirks in Tuleta for years for use in our Leasing program. We also purchased a few for customers that were raising F-1 heifers out of Hereford cows. In all those years, I found a Bull that I couldn't part with. His number was 590 by a Hudgins Fabian de Manso (862/2) son and out of an Elephante (11-284/1) daughter. I wasn't knowledgeable enough for the breeding to mean much to me, but his tremendous muscling, bone, and disposition were irresistible. We called him "Hoss".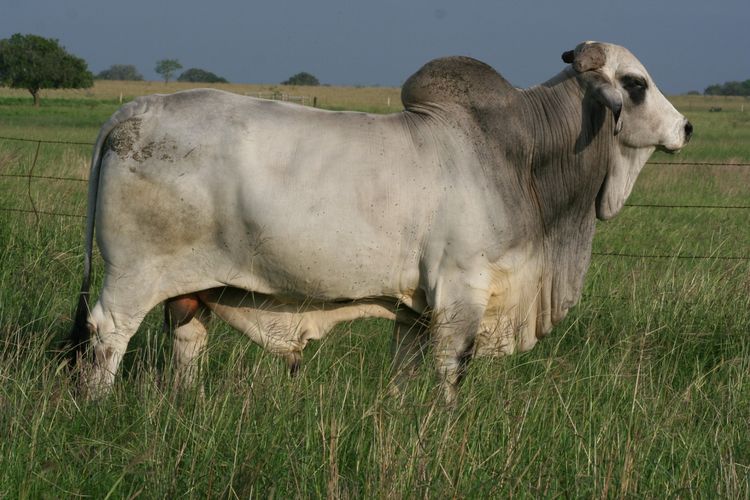 "HOSS"


The only way to find out if he possessed the other "essential", FERTILITY, was to take a chance and breed him. We started breeding him in late Fall of '03. Most of the cows were already bred to Hereford Bulls, but we did get four tremendous daughters out of him in 2004.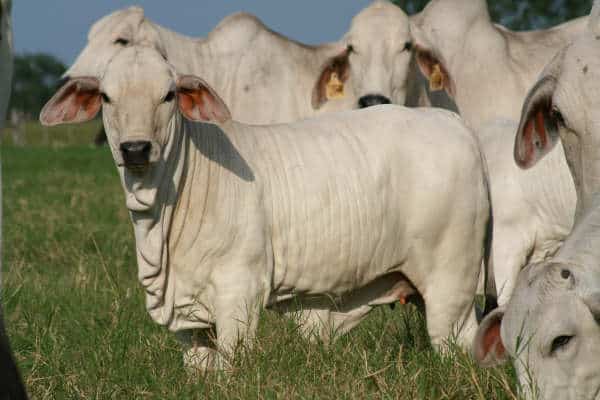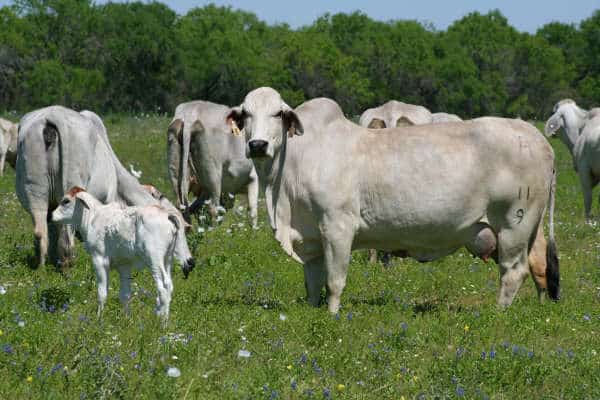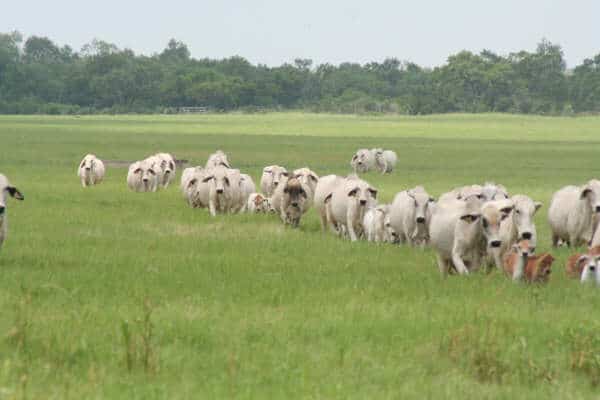 The next year, 2004, I decided to go all out. Since I couldn't afford another bull good enough for my cows, I was compelled to try him on all 54 (I had added 4 Watts heifers to the herd)! Believe it or not, he bred 52 of the 54! Dr. Allen of Pearsall did the pregnancy test and was as surprised as I was. The two "open" cows subsequently calved. They must have been too close to call at the time. My bull had bred 100% of the 54 cows!
That's when I knew I had something. I decided to breed them identically as long as the cows would hold up. I am currently set to wean the fourth calf crop this Fall. I have kept every heifer I have raised except 12. I made the mistake of pricing them to a customer at an extremely high figure. I won't make that mistake again; he took them!
In 2005, I found a set of Brahman cows I thought would make a great addition to our herd. Tommy Young, from Bullard, Texas had them at the time. He had purchased them from Jerry Armstrong as heifers. He had just weaned an F-1 calf crop and we contracted to buy the ones that were pregnant with their second calf. My reasoning, of course, was a heifer that got bred back quickly while nursing her first calf stands to be a fertile cow the rest of her life. We bred them to another Dirks Bull and had great results. As a matter of fact, they ALL bred to him; 100%!! Again, Dr. Allen did the pregnancy test. It coincided with the second year we started breeding straight Brahmans. It also just happened to be in the middle of one of the worst droughts in history, 2006. That made the fertility all the more impressive!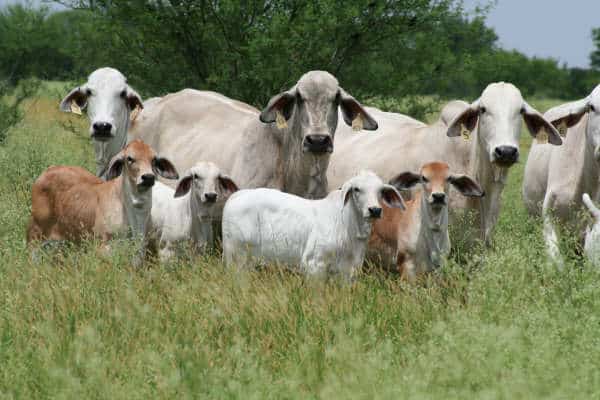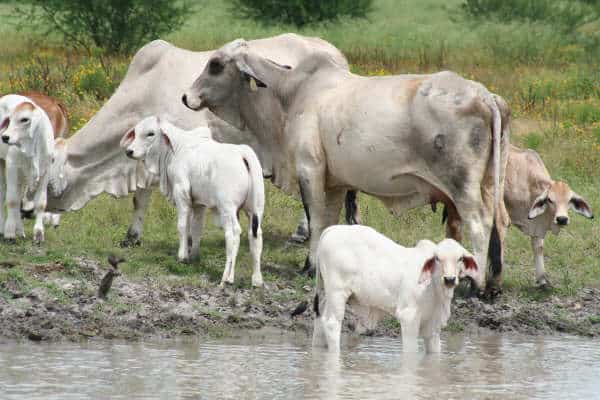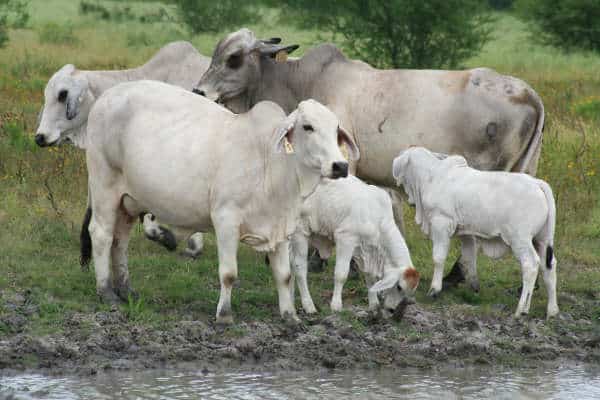 It became apparent that we stumbled onto some extremely fertile cattle. That is why we are determined to keep as many generations of heifers as we can. The quality has been out-of-this-world! The fertility has proven to be a highly heritable trait. The first 29 keeping heifers we bred conceived 100%. Dr. Gary Williams of Beeville did the pregnancy testing. Initially, all but one was bred. Subsequently, we re-preg'd the "open" one and she turned up pregnant. She must have been too close to call the first time. To quote Dr. Williams, "You ought to be giving a seminar on how to get cattle bred!" It would be an extremely boring seminar. My cows did all the work.
We are equally proud of our "606" bull that bred these heifers 100% on his first year in service! We purchased him from Kallion Farms. He is a "Karu" son (one of my favorite sires) out of a Hudgins cow and has 6 stars for marbling and tenderness. That's right SIX stars! That is extremely rare in the Brahman breed. Even rarer is a bull that can claim to have bred everything he was exposed to his first season. If you can back it up, it's not bragging!
It gets better! We just palpated our '07 heifers that were exposed to "606". He bred 100% again! 25 out of 25! I can't tell you how proud we are of this bull AND our heifers. All will calve in the Spring except two or three that are due this summer. He covered most in 90 days. We think this kind of fertility is exceptional; especially in light of the fact that we breed in natural conditions with just adequate supplement in time of drought. These heifers bred in the summer of 2008, one of the driest on record. They are shown below calving in a brush pasture on our Atascosa County Ranch.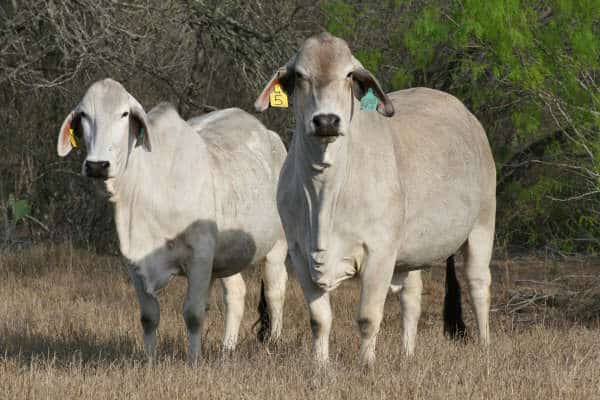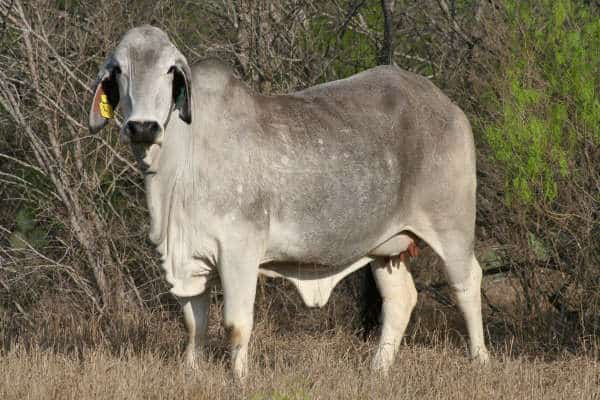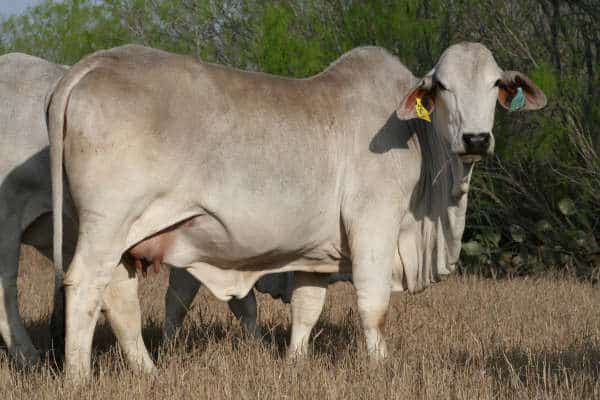 Pictured here after they have calved out. 25 heifers brought in 26 calves (1 set of twins). 100% conception! 105% weaned calves!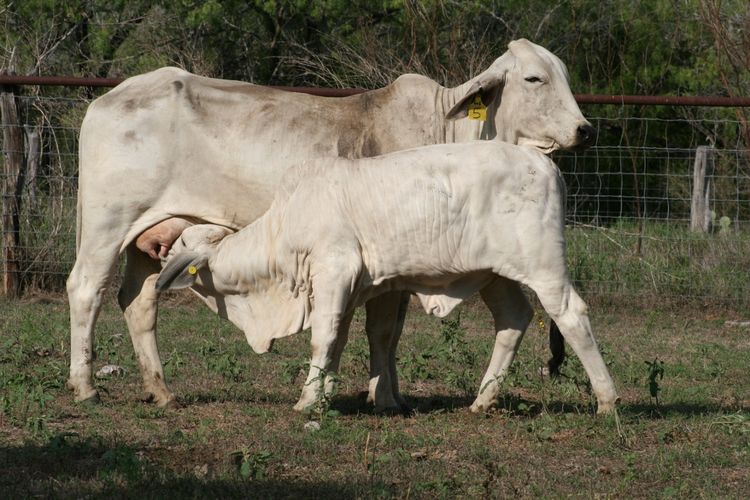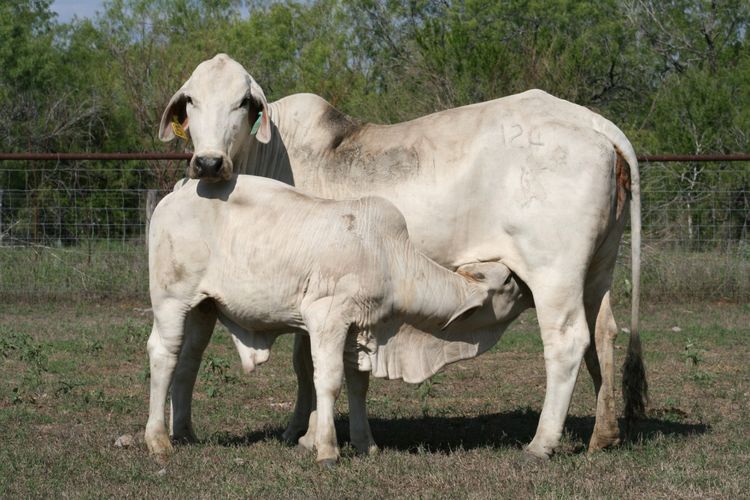 Four of our "keeping bull calves" were "606" sons out of these heifers. Of course, we kept all the heifers. We bred these pairs back to "42" and had 16 out of 22 (3 had small calves and haven't had enough time) bred to him in the 1st 60 days! We are very impressed with his breeding aggressiveness. Keep in mind, this was during this last Summer's drought!
Shown below are several of our 606 weanling daughters and one "keeping" 606 son out of our 1st calf heifers. They remind us of their paternal grand-sire, Karu!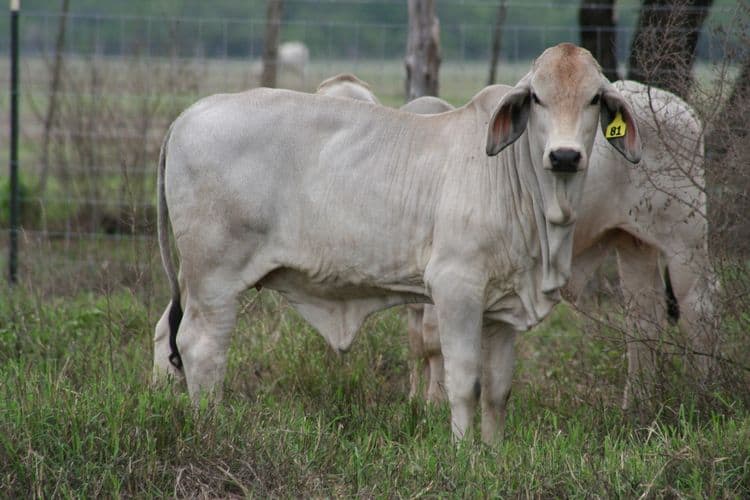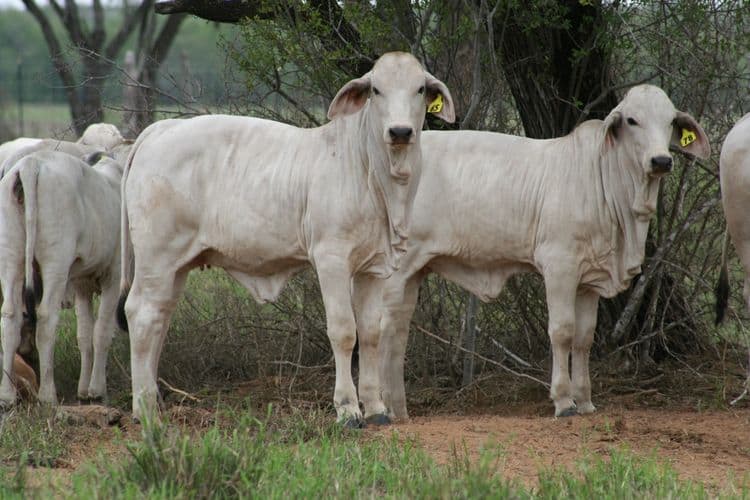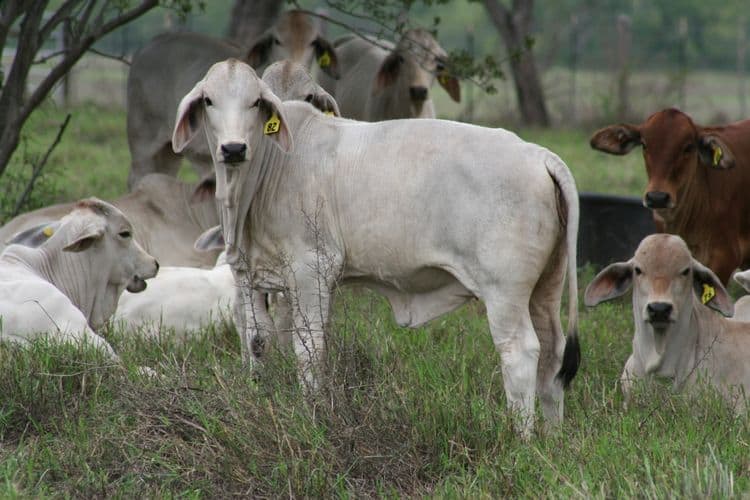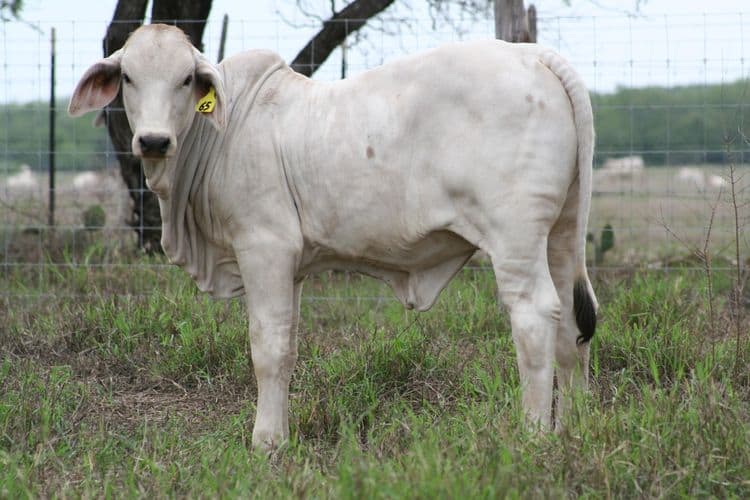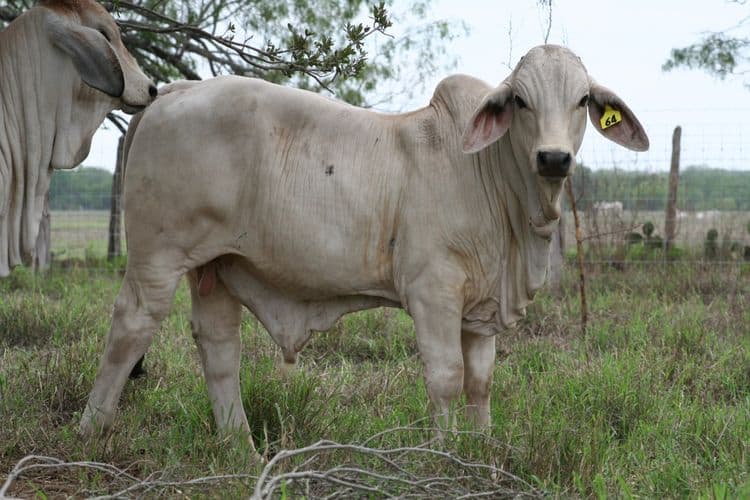 When you have everything going right, you start to "tweak" your program. I didn't think I was getting good enough bull calves. I loved my heifers, but I thought my bull calves could use some improvement.
To attempt a remedy, we decided to start outcrossing the cattle to some high powered genetics. Not only did we want them to look good on the outside, but to quote my friend Byron Vassberg, "Let's make 'em good on the inside too!" This is the philosophy that led us to acquire the "606" bull. We decided to get some sires that were at least 5-star for tenderness and marbling. We also acquired "425" a 6-star 189 son, "606", another 6-star Karu son, 721 and 42, both 5-star Karu sons. 42 was our pick of Kallion's '05 bull crop. The 6-star bulls, especially, are very rare in the breed.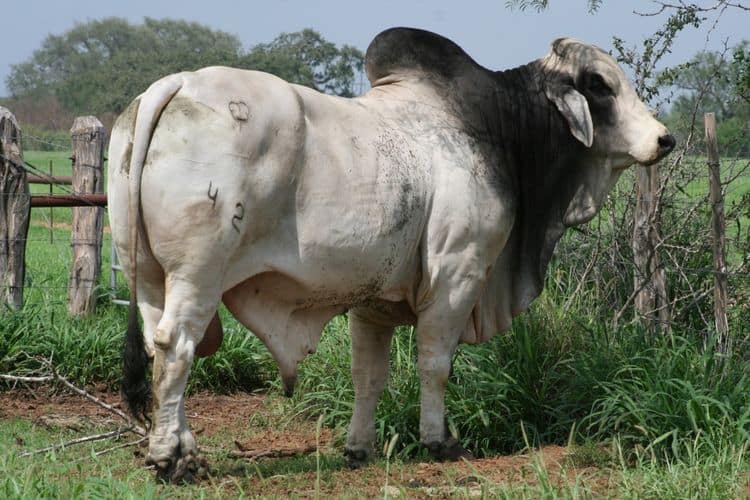 "42"


As our calf crops were coming out of these new sires, we decided to acquire some more gene-verified bulls and acquired "667", a 6-star Rancher son (8 on feed efficiency), #681", a 5-star 562 son (also 8 on FE ), and "711", a 5-star 924 son (also 8 on FE).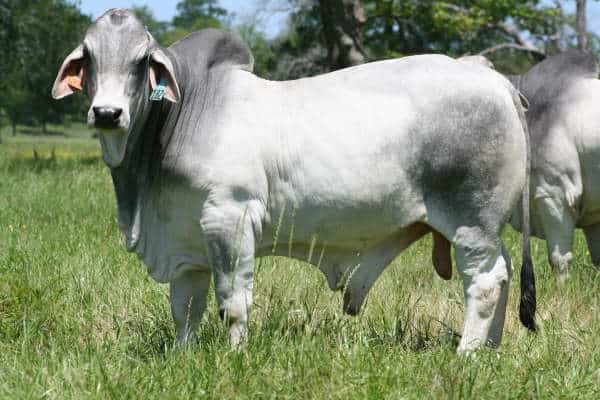 "681"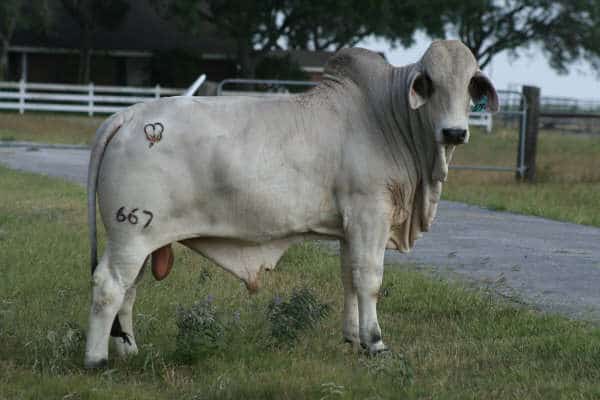 "667"

This brings us to where we are today. Currently, we have our '05 heifers having their second calves, and our '06 heifers having their first calves. We have exposed some of our older '07 heifers for 60 days from December to February. We will wrap up the breeding on the balance starting in June. Our '08 heifers are all dehorned, vaccinated, weaned and out on grass. Our '09 calves are hitting the ground this Spring and look great! Shortly, we will have FIVE generations of heifers out of our base herd. We haven't sold a single heifer since we started breeding them to Brahman bulls!